Well, the little man has finally got to 20 years at the top and has just celebrated with a 50 in Ahmedabad. Everybody knows about Tendulkar the batsman, but did you know about the fast cars, the fast bowler he could have been and how falling out of a tree got him on the path to stardom?
1) Tendulkar always puts on his left pad first, and has the tricolour pasted inside his kit bag.
2) The Little Master is ambidextrous. He bats, bowls and throws with his right hand but signs autographs and eats or plays table tennis with his left.
3) In school, Tendulkar took immense pride in his long curly hair, like his hero John McEnroe. Unfortunately, he was once mistaken for a girl by good friend and fellow cricketer Atul Ranade.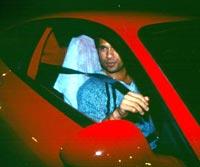 4) Ferrari gave Sachin Tendulkar a 360 Modena for equalling Bradman's 29 centuries in Test Cricket. Laws were passed so he could bring the car into India without paying customs. Special treatment for a special player, but due to political and social activist protests, Ferrari finally paid the dues.
5) In Mumbai, he must "wear a wig to go out and watch a movie only at night".
6) Virgin Comics launched a series of comic books featuring India's greatest as a superhero. Virgin boss Sir Richard Branson said: "Sachin's success is legendary and we are delighted to collaborate with him."
7) Tendulkar was a ball boy in 1987 World Cup in the semi final in Wankhede when India lost its defence of the World Cup to England
8) He was named after legendary music director Sachin Dev Burman by his grandfather.
9) The maestro wanted to be a tearaway fast bowler and even went to the MRF Pace Academy. However, head coach Dennis Lillee persuaded him to concentrate on his batting. And to forget the headband...
10) Sachin loves Kishore Kumar, one of India's most famous playback singers, and, ahem, Dire Straits. Well, there's no accounting for taste.
11) He is Glenn McGrath-like in that he clocks every Test dismissal - especially the bowler who dismissed him.
12) During their 664 run record stand in the Harrisshield in 1988, it is said Tendulkar sung with Vinod Kambli to avoid eye contact with the coach's assistant, who wanted to declare while the duo wished to bat on.
13) He refused to shoot for a soft drink ad of him smashing cricket balls with a fly swatter, reportedly telling director Prahlad Kakkar, " That would make me greater that the game." The ad was modified: he hit the balls with a stump. Kakkar said Tendulkar's humility left him "spellbound".
14) Whisper it, but he once fielded for Pakistan as a substitute during a one day practice match against India at Brabourne Stadiumin 1988.
15) A prankster from an early age, he once put a hose pipe into Sourav Ganguly's room and turned on the tap. Ganguly awoke to find his gear floating.
16) He used to sleep with his cricket gear during his junior days.
17) His early mentor, Ramakant Achrekar would put a one- Rupee-coin on the top of the stumps, and the bowler who dismissed Tendulkar would get the coin. If Tendulkar passed the whole session without getting dismissed, the coach would give him the coin. The Mumbai miracle now considers the 13 coins he won then as some of his most prized possessions.
18) It took 78 one-day internationals for Sachin Tendulkar to score a hundred. Perhaps we should be less harsh about Michael Vaughan's ODI career...
19) Sachin fell from a tree on a Sunday evening during a summer vacation, to catch the movie Guide which was showing on national TV. His infuriated brother Ajit packed him off to a cricket coaching class as punishment.
20) During the 1991-1992 tour of Australia, which included centuries at Perth and Sydney, Merv Hughes commented to Allan Border at the time that: "This little prick's going to get more runs than you, AB." Tendulkar currently has 12,773 compared to Border's 11,774.