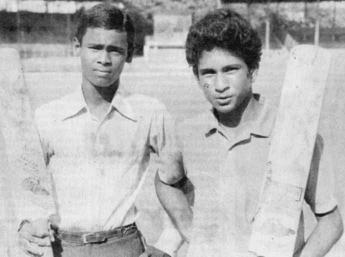 Two decades is enough time for even cliches to change, but the presence of Sachin Tendulkar at his alma mater, Shardashram Vidyamandir, hasn't diminished at all. It has been twenty years since Sachin Tendulkar began etching history in Shardashram whites, but students still talk about the great batsman as if he were present right there — as if he'd join them later in the noon for math class.
'' His every move is a case study for us. Our opponents always think we are really good and we don't need to tell you the reason ,'' smiles batsman Sagar More.
Any talk of Sachin and the children beam with pride. Says 16-year-old Akash Saraswat, a budding bowler, '' Playing for Shardashram means learning to balance pride with pressure. We don't just represent the school. We represent all our heroes and Sachin is on top of that list.''
'' Twenty? What he has done for Shardashram won't fade for another 40 years to come,'' says Naresh Churi, who has been coaching, for a decade now, at the school he once studied in.
Churi rewinds to the Tendulkar era at Shardashram. '' Back then, if a coach knew his ward had it in him to make it big, he would send him here,'' he says.
'' Sachin came from Bandra, Kambli from Kanjurmarg and Chandrakant Pandit from Chembur. The school team used to win every other tournament it played. Then again, there were about 25 schools playing competitive cricket. Today, the flood of academies and schools in every nook and cranny of Mumbai leaves us the task of digging out gems from a select bunch. The talent is there but again, how often can you find a Sachin?''
The school, though a shadow of its once dominant self, hasn't stopped delivering talent to the Mumbai team. And that is what makes Shardashram special. '' We did it then (when Sachin was there) and are doing it now. That is what sets us apart from other sides. The current team keeps looking at all our heroes and that keeps them going,'' he says.
Churi, however, feels Tendulkar had the biggest impact on the school management. '' The difference has been tremendous. The mentality that only education can get you places on the world map has taken a backseat. The support that we have been getting is the best gift that Sachin left behind,'' says Churi.
Interestingly, though everyone ranging from Australians to Sri Lankan cricketers are discussed here when when it comes to learning the finer points of the game, it's only Tendulkar who turns teacher when it comes to being a good human being.
'' Keep all his records and tons aside and just look at him as Tendulkar , the human being. He is a university. It's a miracle he has managed to stay grounded for 20 years. I tell the boys that if it's anything about him they should ape, it is his behaviour. You can get all his statistics and records online, but you cannot understand what a brilliant human being he is until you know him personally ,'' says Churi.