(Originally Posted on 3rd November, 2009 at
Say What
)
Sir Donald Bradman, widely regarded as the greatest batsman in the history of cricket had famously commented: "
I never saw myself play, but I feel that this player is playing much the same [way] I used to play.
" The story goes that cricket's greatest ever player, Sir Donald Bradman, was watching a 1996 World Cup match on television when he first saw Sachin Tendulkar bat. The Indian player's technique seemed strangely familiar. Though his stance and his movements were compact and efficient, he hit the ball hard and his shots were ruthlessly effective. The Australian called his wife into the living room of their suburban Adelaide home. "Who does this remind you of?" asked Bradman, then 87. The answer was obvious... and Sir Don uttered those famous words!
Richard Williams of The Independent went on to write: "
You can see Achrekar's handiwork every time Tendulkar settles himself at the crease. The compact stance, the easy gestures, the fluency with which the bat travels through its arc, all speak of fine coaching. But they speak even more clearly of a natural talent and a wonderful temperament, the sort of qualities than cannot be coached into existence where they do not already exist.
For all Brian Lara's amazing records and unpredictable brilliance, for all Mark Waugh's solidity and tenacity, Tendulkar is the one who sets the standard for his era. No sporting giant of the sepia-tinted past has ever paid a more eloquent and touching tribute to his successor than that of Sir Donald Bradman to Tendulkar last August, when the great Australian not only invited the young Indian to his 90th birthday celebrations but also showed his guests a specially made film juxtaposing footage of the two men, more than half a century apart, playing the same shots with a strikingly similar attitude and technique.
"
Sir Don perhaps paid the ultimate compliment to SRT but here's what his colleagues and some significant others had to say about him over the years...
From Australia:
Richie Benaud: "He has defined cricket in his fabulous, impeccable manner. He is to batting what Shane Warne is to bowling."
Mark Taylor: "We did not lose to a team called India...we lost to a man called Sachin" - Mark Taylor, during the test match in Chennai (1997)
Glenn McGrath: "The joy he brings to the millions of his countrymen, the grace with which he handles all the adulation and the expectations and his innate humility - all make for a one-in-a-billion individual,"
Shane Warne: " ... in Australia in 2003-04 he was worried about getting out cover driving so he decided to cut out the shot. I saw the wagon wheel for his next innings: he scored 248 without a single cover drive. Like Lara, he has scored runs all over the world. I have seen him run down the pitch and hit Glenn McGrath over the top for a six, and I have seen him hit me for six against the spin going around the wicket. I have been lucky to get to know him off the field as well. He is quiet and humble. A great player and a great man."
Though Warnie is better known for having said: "I'll be going to bed having nightmares of Sachin just running down the wicket and belting me back over the head for six. He was unstoppable. I don't think anyone, apart from Don Bradman, is in the same class as Sachin Tendulkar. He is just an amazing player."
Michael Kasprowicz: "Don't bowl him bad balls, he hits the good ones for fours."
In fact M/s Warne and Kasprowicz have one common train of thought:
Warne: "You have to decide for yourself whether you're bowling well or not. He's going to hit you for fours and sixes anyway. Kasprowicz has a superior story. During the Bangalore Test, frustrated, he went to Dennis Lillee and asked, "Mate, do you see any weaknesses?" Lillee replied, "No Michael, as long as you walk off with your pride that's all you can do."
Andrew Symonds: "To Sachin, the man we all want to be" - What Andrew Symonds wrote on an aussie t-shirt he autographed specially for Sachin
Ricky Ponting: "I have always said that Sachin is the best player I have played against and seen. He is absolutely world-class. Having him at the top of the order makes the team look much more formidable. He gets in there early, he has technique to play the new-ball, and he can be as damaging as anyone in the middle and end overs. He makes for a pretty good package when he is at his best."
Ian Healy after Tendulkar's tour to Australia in 1991/92:"It did dawn on me at the end of the series that he was something special..."
Dennis Lillee: If I'm to bowl to Sachin, I will bowl with my helmet on. He hits the ball so hard.
Matthew Hayden: Sachin Tendulkar is a god in India, a phenomenal player. "His (Tendulkar's) life seems to be a stillness in a frantic world and I admire his mental strength. He is a phenomenal player". When Tendulkar goes out to bat, wrote Hayden, "It is beyond chaos - it is a frantic appeal by a nation to one man". Tendulkar "seems like a spiritually rich individual, a solid human being; quite reserved and thoughtful to speak to. The people of India see him as a god," the left-handed opener wrote, adding "(Australian captain) Stephen Waugh is almost a god here, but Sachin is a God and people believe good luck shines in his hand". Summing up his admiration for the Indian genius, Hayden quoted a Paul Kelly song about Sir Donald Bradman: "He was more than just a batsman, He was something like a tide."
Mark Waugh: Irrespective of the score, whenever Sachin Tendulkar comes to bat he is under pressure. The pressure comes from all those people who look up to him, who pray that he gets a century, who cheer like India has already won when he comes in to bat, and who silently troop out of the stands once he gets out. When a visiting team comes to India, they know whom the Indians look up to. While they love watching India play, there is no doubt that Tendulkar is the player they love watching most. There is a buzz when he comes in to bat and if he fails, the crowd goes quiet for the rest of the game.
Brett Lee: You might pitch a ball on the off stump and think you have bowled a good ball and he walks across and hits it for two behind mid wicket. His bat looks so heavy but he just waves it around like it's a toothpick.
Greg Chappell (Indian Coach):" Sachin carries a weight of collective expectation to the crease that few can comprehend. Bradman would not have had the weight of expectation that Sachin has on him every time he went out to bat." (Indian Team Cricket Coach 2005-2007)
Australian Media: "The most exciting batsman of his time because he finds the right balance between reason and passion, technique and power, nerves and placement and judgement that applies to all tastes."
(The Australians are totally fida over our Tendlya, aren't they?)
From South Africa:
Hashim Amla: "Nothing bad can happen to us if we're on a plane in India with Sachin Tendulkar on it." - that's how Hashim Amla, the South African batsman, reassures himself as he boards a flight!
Allan Donald: "Sachin Tendulkar has often reminded me of a veteran army colonel who has many medals on his chest to show how he has conquered bowlers all over the world... I was bowling to Sachin and he hit me for two fours in a row. One from point and the other in between point and gully. That was the last two balls of the over and the over after that we (SA) took a wicket and during the group meeting i told Jonty (Rhodes) to be alert and i know a way to pin Sachin. And i delivered the first ball of my next over and it was a fuller length delevery outside offstump. And i shouted catch. To my astonishment the ball was hit to the cover boundary. Such was the brilliance of Sachin. His reflex time is the best I have ever seen. Its like 1/20th of a sec. To get his wicket better not prepare. At least you wont regret if he hits you for boundaries."
Barry Richards: "Sachin is cricket's God."
From Pakistan:
Yaseer Hameed: "Sometimes you get so engrossed in watching batsmen like Rahul Dravid and Sachin Tendulkar that you lose focus on your job."
Imran Khan (C) of Pakistan to Javed Miandad (VC) in Sachin's debut test series 1989.: "I know that the New ball is due, but I am Saving it for that "Chotu"(Sachin) who is coming next."
Wasim Akram: "Tujhe pata hai tune kiska catch chhoda hai?" Wasim Akram to Abdul Razzaq when the latter dropped Sachin's catch.
Akram has also said: "Cricketers like Sachin come once in a lifetime and I am privileged he played in my time."
Waqar Younis: "He can play that leg glance with a walking stick."
Inzamam-ul Haq: What has impressed me the most about Tendulkar all these years is his humble and simple nature. I never saw him let the fame and adulation he enjoys get to his head.
Javed Miandad: He (Sachin) loves cricket and with his hard work, focus and commitment he has truly become an outstanding ambassador for the sport at a time when commercialism is so rampant.
Abdul Qadir: I was at my best in 1989 and even the best batsmen had second thoughts coming out to hit me. I remember I kept on goading him to hit me and he took the challenge and came down to strike me cleanly. It was amazing. I knew instantly this was someone special.
Younis Khan: It's difficult believing that somebody can be around for 20 years! His appetite for runs is mind-boggling... It's only a few weeks ago that he got a great hundred (in Sri Lanka)... He delivers despite being under so much pressure... Sachin's truly amazing.
Asif Iqbal: "He has given a new dimension to batting. Such dominance can break the heart of the best of bowlers. I was never tired of watching this wonderful batsman."
From West Indies:
Brian Charles Lara: "Sachin is a genius. I'm a mere mortal." He has also said before - "You know genius when you see it... and let me tell you, Sachin is pure genius."
Desmond Haynes: "In terms of technique and compactness, Tendulkar is the best."
Sir Garfield Sobers:"I have watched a lot of Tendulkar and we have spoken to each other a lot. He has it in him to be among the very best."
Sir Viv Richards: "He is 99.5 per cent perfect. I'd pay to see him."
From New Zealand:
John Wright: "I never Coached Sachin Tendulkar, I gave him gentle advice when he asked for it." - John Wright (Indian Team Cricket Coach 2000-2005)
From Zimbabwe:
Andy Flower: "There are 2 kind of batsmen in the world. One Sachin Tendulkar. Two all the others."
Paul Strang: "What we (Zimbabwe) need is 10 Tendulkars."
From Sri Lanka:
Kumar Sangakkara: "Tendulkar has been brilliant. To have survived the tough test of public expectation in India is something, which should be commended. The runs are an added bonus. He's probably the greatest player to play the game in the modern era and compares with the Bradmans and all the legends of the past. We run out of superlatives when talking about Sachin. He keeps getting better and better."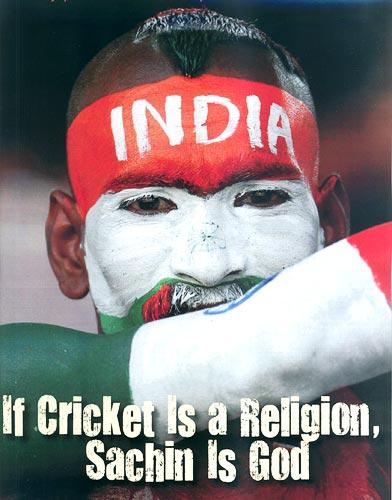 From India:


M. L. Jaisimha: "The more I see of him the more confused I'm getting to which is his best knock."
Kris Srikanth: ""Look at the passion he has got. He has got all the records but he still has the hunger, the passion. This is something that the youngsters can learn from him."
Ravi Shastri: "He is one of the rare few who dont boast after scoring a 241, rather comes back to pavilion just to see the replay of his dismissal and rectify it in future."
Navjot Singh Sidhu: "India me aap Prime Minister ko ek Baar Katghare me khada kar sakte hain..Par Sachin Tendulkar par Ungli nahi utha Sakte... His mind is like a computer. He stores data on bowlers and knows where they are going to pitch the ball."
Anil Kumble: "I am fortunate that I've to bowl at him only in the nets!"
Rahul Dravid: "Playing in the same team as Sachin is a huge honour. His balance of mind, shrewd judgement, modesty and, above all, his technical brilliance make him my all-time hero."
Navjot Sidhu:
Cricket Historian Vasant Raiji: "I have always felt C. K. Nayadu was the best. I now think Sachin has the honour of being the most outstanding batsman of all time."
From England:
David Shepherd: "If he is not the best then I want to see the best."
Mike Coward: "Sachin's the best. I've had this view since I saw him score that hundred in Sydney in 1992. He's the most composed batsman I've ever seen."
Geoffrey Boycott: "Technically, you can't fault Sachin. Seam or spin, fast or slow — nothing is a problem."
Tony Grieg: "There's no doubt about it. He is the best."
Michael Artheron: "I do not think even WG (Grace) would have played like Sachin" - the usually taciturn Michael Atherton gushing after Sachin led his Rest of the World side to an easy win over the Atherton-led MCC with a rivetting 125, was accorded a standing ovation by the 30,000 strong tradition-bound gathering as he walked back after his first century at the Mecca of Cricket.Tendulkar reiterated his status as the world's best batsman and the Diana, Princess of Wales, Memorial match on the 150th birth anniversary of the venerable WG Grace, father of modern cricket, turned into an occasion for paying the richest tributes to the young maestro. The English press paid the highest compliment when it asked: "Will they be staging a match on April 24, 2123, to celebrate the 150th anniversary of the birth of Sachin Ramesh Tendulkar?"
Others:
BBC on Sachin: "Beneath the helmet, under that unruly curly hair, inside the cranium, there is something we don't know, something beyond scientific measure. Something that allows him to soar, to roam a territory of sport that, forget us, even those who are gifted enough to play alongside him cannot even fathom. When he goes out to bat, people switch on their TV sets and switch off their lives. But the finest compliment must be that bookmakers would not fix the odds - or a game - until Tendulkar was out."
Peter Rebouck: "On a train from Shimla to Delhi, there was a halt in one of the stations. The train stopped by for few minutes as usual. Sachin was nearing century, batting on 98. The passengers, railway officials, everyone on the train waited for Sachin to complete the century. This Genius can stop time in India!"
Shahrukh Khan: When asked in an interview Who he thought was the most important celebrity, SRK replied: "There was a big party where stars from bollywood and cricket were invited. Suddenly, there was a big noise, all wanted to see approaching Amitabh Bachhan. Then Sachin entered the hall and Amitabh was leading the queue to get a grab of the GENIUS!"
Leander Paes : "To me, longevity is the hallmark of greatness and Sachin epitomises that. That's talking pure sport. But when we begin to judge greatness as a human being, then anyone's greatest asset is humility. Sachin's poise and composure in the face of constant public scrutiny is remarkable, in fact, it's almost superhuman.I am convinced that he would have been world-class no matter what sport he played. Cricket is lucky he chose to redefine that particular sport."
NKP Salve, former Union Minister: (This was when Sachin was accused of ball tampering) "Sachin cannot cheat. He is to cricket what (Mahatma) Gandhiji was to politics. It's clear discrimination. "
Family:
Anjali Tendulkar: "I can be hundred per cent sure that Sachin will not play for a minute longer when he is not enjoying himself. He is still so eager to go out there and play. He will play as long as he feels he can play,"
Sara Tendulkar: "Even my father's name is Sachin Tendulkar." - Tendulkar's daughter, Sara, tells her class her father's name after the teacher informs them of a restaurant of the same name in Mumbai.
Me:
"Cricket is my religion. Sachin is my God" ...D-uh! :)
---
I saw some of these comments on a Facebook post earlier in the day and that was enough stimulus to find the rest! So a huge thanks to the original "poster" :p
Also all Sachin devotees, have a dekko at this site:
http://www.sachinandcritics.com/