Rahul Dravid and Sourav Ganguly, Sachin's batting partners since his age-group days, provide insight into the mind and matter of the legend
Rahul Dravid : 'His equanimity sets him apart'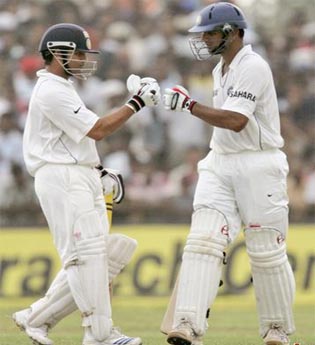 When did you first meet him and what was your impression...?
I first met him during an under-15 match in 1986-87. South Zone were playing West Zone in Cuttack. Sachin scored about 65-70 as far as I remember. I wasn't playing that match as I was one of the substitutes. I was doing the scoring. Back then too it was very clear that he was a notch above the rest.
What is it about his personality that stands out?
I think it is his balance and equanimity, especially in a country where people's sentiments go up and down all the time. It is difficult to maintain that kind of equanimity all the time. I believe that this is one of the reasons he has been able to play for as long as he has.
Is there anything particular in his batting that you would have liked to possess?

His ability to judge the line and length really quickly is amazing. He is rarely caught in no-man's land. Also, his ability to whip balls that are straight in the line of the stumps to the leg side or balls that are just outside off stump to the leg side, seemingly with no risk, stands out. He also has a great sense of balance.
Your favourite memories...
There are so many that I won't be able to pick one or two. I have enjoyed sharing the dressing room with him and enjoyed the victory celebrations and also shared the disappointment of losses.
On Tendulkar completing 20 years

I think it is a phenomenal achievement. To start playing for the country at 16 and then to play for another 20 years and continue playing... He not only had to fulfil people's expectations but also his own. It is truly fantastic. It tells you a lot about his ability as a player, his skill level, his mental ability and his physical fitness.
— Nihal Koshie
------

Sourav Ganguly: 'Emulate his hunger'
Sourav Ganguly says that it may not be possible to match Sachin in talent, but his hunger and the will to succeed should be the things to follow for the kids.
"It's a phenomenal achievement to complete 20 years. It is not the just replica of talent because talent alone does not reach many there…It shows his hunger and the want to succeed," Sourav told DNA on the eve of Sachin's completion of two decades in international cricket.
On what the youngsters should pick from the maestro, Ganguly said: "Young kids who want to play this sport should try and emulate his want and hunger to succeed."
Sachin has captured the changing face of Indian cricket, Sourav said. "He has seen Indian cricket in different phases. India, always a bad traveller, started winning matches and also lost on some tours but he still has been the image of Indian cricket."
— Sanjib Guha
(Source: http://epaper.dnaindia.com)